The Rif's Revolt Against Tyranny
Rif is a historically marginalized region in the North African country of Morocco. The Riffians are sparking a revolution. 
The Pivotal Moment When It All Happened
October 29, 2017 will mark the anniversary of the death of Mohsen Fikri, a fisher-seller from the Northern region of Morocco who was crushed inside a garbage truck attempting to retrieve his confiscated fish merchandise.
 Selling fish was his only way to provide his family with bread on the table every day, and yet the Moroccan authorities complained about a so-called license that Mohsen Fikri allegedly did not posses. Witnessed esses heard the men argue in the crowded streets of Al-Hoceima, Morocco (Rif). That same night, the authorities confiscated his fish and threw them into the garbage truck. Witnesses also saw how the man desperately jumped inside to save whatever was left of his merchandise. His fellow countrymen were watching the event unravel into what they could not foresee: the beginning of the Riffian Revolution. 
"TaHan Mo!" Arabic: "طحن مو!" was reportedly yelled by the Moroccan police officer to Mohsen Fikri while he was still inside the garbage truck. In English, this roughly translates to: "Grind his Motha—!" A clear order to crush him inside the garbage truck was therefore given with no remorse. Riffians around him were immediately shocked, outraged, and devastated as they tried to find a way to save this poor man's life. Hashtags, pictures, and videos were shared within minutes or even seconds of the incident on several social media outlets, mainly Facebook. 
The story of this tragic man's death was subsequently featured on popular media outlets such as Al-Jazeera , Al-Arabiya, and Western news outlets such as BBC and The New York Times.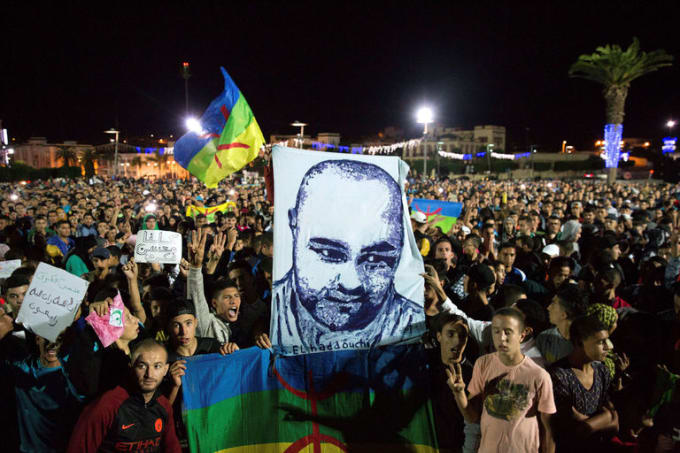 Riffians holding a picture of Mohsen Fikri protesting outside on the streets of Al-Hoceima, Morocco
His legacy lives on after a Pandora's box was unleashed marking yet another uprising in the Rif, a historically marginalized region in North Africa inhabited by the indigenous people, the Amazighs. They speak an entirely different language from Arabic, and therefore do not consider themselves as Arabs like the other Arabic-speaking North Africans. The people of the Northern region of Morocco are known as "Irifiyen," Riffians in their language Tarifit, a variant of the indigenous language of North Africa, Tamazight. For decades and decades they have been victims of a series of genocides, kidnappings, and systematic violence from the early years of their struggle for independence in the 1920s till this day. 
The 1950s and 60s under the rule of the Moroccan King Hassan II was one of the bloodiest eras for this people where a large number of people were murdered by airstrikes, turning this into genocide of an indigenous population. The Riffians were also victims of chemical weapon attacks from Morocco, Spain, and France during the wars of the 1920s where they were officially declared a sovereign nation from 1921–1926. Unfortunately, they lost the war against the Spaniards and remained under the control of Morocco, leaving Spain with the cities of Melilla and Ceuta as their territories.
 Abdelkarim Al-Khattabi was the name of their glorious and headstrong leader who led the battles against foreign occupation. Before the tragic death of Mohsen Fikri, there were martyrs like him as well. 
There was a singer and activist who were beheaded by the authorities. Hocine Belkich and five young adults who were also political activists were tortured at a detention center and then burned alive. 
So as you can see, it is no wonder that such an event could unleash yet another spark to provoke this nation to rise up once again and reclaim their basic human rights.The leader of this movement is of utmost importance as well. His picture is the thumbnail of this article, and he has become the symbol of resistance for this movement. His name is Nasser Zafzafi from Al-Hoceima, Morocco. He was a simple man at first visiting with people on strategies on how to get the attention of the government and media in order for their voice to be heard. 
He quickly gained popularity and recognition through his activist videos on Facebook and Twitter. On June 2017, he was arrested along with other political leaders such as Mohamed Jaloul. From October 2016 till this day, a series of violent outbreaks between protesters and the Moroccan authorities has left many innocent young people dead by police brutality. 
Nasser and others are still in prison and have released statements of torture and humiliation by the police in the Okacha prison in Casablanca. All of North Africa and those who sympathize with this nation, its history, culture, and cause wait impatiently for justice to be done unto these political prisoners. Let it be known that one day truth will rise over darkness. 
I say this on this occasion of the month of October, a period which in many cultures around the world, it should be a time to commemorate those who have fallen or passed away and to remember that we must always hold on to hope in a time of despair.